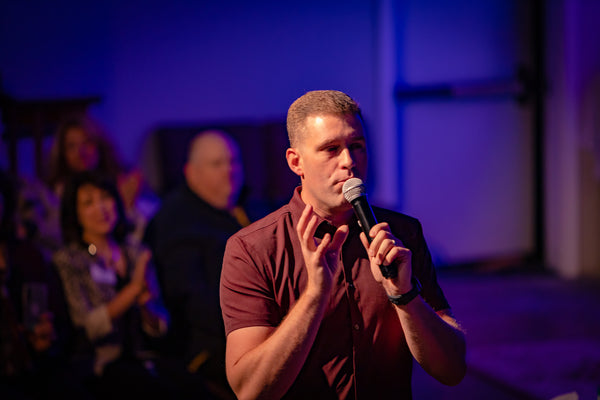 HELPING THE BODY OF CHRIST COME UP HIGHER IN THE KINGDOM
1 Cor.4:20 - the kingdom of God is not in word but in power.
INVITE STEPHEN TO MINISTER
Lion of Light Ministries
Stephen and his wife Amanda lead Lion of Light Ministries, a ministry that stands for biblical truth in the midst of culture and is dedicated to preaching the gospel of Jesus Christ with signs following. Stephen's vision is to help the body of Christ experience the presence and power of God in a real way, be strengthened in their faith through strong biblical teaching, and see the bride of Christ rise up to walk in the glory in these last days!
kingdom resources
Support the ministry when you purchase Lion of Light books, audio teachings, & prophetic art

"Stephen Powell is a passionate prophet and revivalist who delivers anointed messages followed by manifestations of glory.  His ministry has been a great blessing to many churches, fellowships, and conferences. He and his wife Amanda and their four children reside in Maricopa, AZ and often connect with our ministry team for which we are grateful."
Minister, Author, Media Producer and Host
www.patriciaking.com.
PATRICIA KING

I had the pleasure of first meeting Stephen and his family when the Lord directed them to move from Alaska to South Carolina. From the moment I met Stephen, I knew God would use him powerfully as a prophet. Over the years I have watched him grow into his calling and mature as a man, a husband, a father, and a prophet. Stephen has a strong prophetic voice. He ministers to others with the heart of God and walks in humility and integrity. His deep walk with God is evident by the fruit of his teachings and as he ministers to others. I am excited about his future in God as God takes him deeper and higher. 
Founder / Wind River Eagle Ministries
Prophet, Author, Minister 
Windrivereagleministries.com
MICHELLE MUELLER

Stephen is a man on fire. His heart burns for truth. His love of people and God is deep and his knowledge of the word is formidable. He and his wife Amanda are the real deal, pursuing God just as much in the secret, hidden place as the public. Everything you see in public has been cultivated in the hidden place. They have endured many tests and come forth as gold, shining as lamps in their generation. I recommend their ministry to you. You will be blessed.
Ignite Ministries International
BENJAMIN DEITRICH

"We were privileged to be one of the first to host Stephen here at NorthGate House of Prayer when He first started his ministry. Since then we have had Stephen a number of times over the years. Always a great experience. We bless Him, In Jesus Name."
Director 
NorthGate House of Prayer
Fairbanks, Alaska
Brad Snow

"Full of prophetic clarity, overcoming revelation, and true direction into what Jesus is actually doing, Stephen's ministry continually blesses our ministry and church by the many avenues he ministers through.
His prophetic words often confirm exactly what God was already saying to us and then unveils a much greater revelation of what the Father's heart is for us, which has enabled us to overcome major spiritual attacks and step mightily towards our calling.
We fully recommend Stephen's ministry to all who want to step more into the Greater Things of Jesus."
Lead Pastor
Stronger Families Church
ANDRE MESSNER

"Our small delightful church family of Kalifonsky Christian Center in Alaska had the wonderful privilege of having Stephen, Amanda, and their family with us for over ten years. Amanda led worship and Stephen worked part time at the church, even as this burning passion to be working full-time in advancing God's kingdom was like a fire in his bones. They both are people of integrity, compassion and passion for God. As a pastor at KCC I saw first hand both the integrity and call of God on Stephen's life. It is my great joy to see how God is using Stephen in these days."
Lead Apostle & Pastor
Kalifonsky Christian Center
Kenai, Alaska
STEVE TOLIVER