Invite Stephen to Teach a School of the Prophets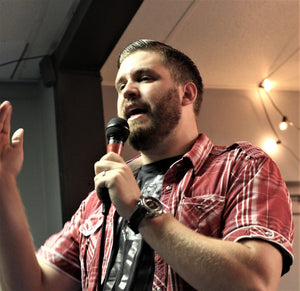 SCHOOL OF THE PROPHETS
A glory school that teaches followers of Christ from the bible about the power and responsibility of the prophetic ministry that Jesus has entrusted to the church, while releasing the manifest presence of God to usher faith communities into a new level of prophetic encounters with God!
Invite Stephen to Minister at Your Church
Are You Desiring for Your Church to Grow in the Prophetic?
We've helped hundreds of churches and leaders grow in the prophetic and come up higher in kingdom culture!
Attention Pastors & Leaders,
Are you feeling stuck in your spiritual growth personally or as a church? Do you long to experience the supernatural power of the God & the manifest presence of the Holy Spirit in your church regularly, but feel like there's a blockage in the spirit to this? Or maybe you have a healthy church, but just need some fresh encouragement from a new voice in this season? We can help!
Stephen Powell is an anointed revivalist & prophet who has been working closely with pastors and leaders in the church for many years to help them usher in the kingdom in their churches, equipping them to walk in the abiding glory of God as they move forward with the call on their lives!
Stephen has recently put together a power school of the prophets that He's been teaching in churches all over America, and the results have been amazing! The glory realm comes every time Stephen teaches from the Word and shares about his amazing prophetic experiences that He's had since childhood involving face to face visitations of Jesus and angels. Here are some of the subjects covered in his new school:
Module 1: Foundations for the Prophetic
► Sonship, Intimacy, & the Prophetic
► Basic Prophetic - Level One Prophetic
► The Gift of Prophecy
► The Office of the Prophet
Module 2: Different Ways That Prophets Hear God & Receive Revelation
► Dreams
► Visions
► Visitations
► Keys to Activating, Growing in, & Stewarding the Prophetic
► Hindrances to Revelation
Module 3: Different Manifestations of the Prophet
► The Nabiy Prophet
► The Seer Prophet
► Ranks & Classes of Prophets
► Additional Classifications of Prophets
► Level 5 Prophets
Module 4: Prophets & the Glory Realm
► The Seven Spirits of God
► The Spirit of Prophecy
► Prophets Work with Angels
► Prophetic Realms
Module 5: Spiritual Warfare
► Prophets & Spiritual Warfare
► Overcoming the Spirit of Jezebel
► The Spirit of the False Prophet
Module 6: Healthy Prophets in the Local Church
► Prophetic Protocol in the Local Church
► Prophetic Accountability
► Prophets Under Authority
► Healthy Prophets
Click here to book a one-on-one zoom call with Stephen at your convenience to discuss your unique needs as a church/ministry & to see if Stephen would be a good fit in your church as a guest minister in the near future!
Click here to fill out our Contact Form to invite Stephen to minister!

"Full of prophetic clarity, overcoming revelation, and true direction into what Jesus is actually doing, Stephen's ministry continually blesses our ministry and church by the many avenues he ministers through. His prophetic words often confirm exactly what God was already saying to us and then unveils a much greater revelation of what the Father's heart is for us, which has enabled us to overcome major spiritual attacks and step mightily towards our calling. We fully recommend Stephen's ministry to all who want to step more into the Greater Things of Jesus."
Andre Messner
Senior Pastor - Stronger Families Church - Papillion, Nebraska

"Stephen Powell's School of the Prophets  was so informative and full. These classes are full of accounts of the Holy Spirit and angelic encounters and is completely backed by the Word of God. Such a great balance of Spirit and Truth. These classes definitely helped me situate and be more informed on some of my past encounters and mysteries of God's ways of communicating. Check them out if you want to grow in and understand more about the realm of the Spirit!!"
Angela Whalin

"I listened to just one session and was powerfully uplifted and elevated in the Glory."
Richard Berget

"The School of the Prophets we recently had, taught by Stephen Powell in our church, was so packed full of revelation and biblical principles on dreams, visions, and encounters from God!! Many began to have dreams with revelatory visions at night!! Stephen Powell is full of the Word of God explaining every detail. We were empowered and a hunger was created for more of God's presence!! We are so looking forward to the next School of the Prophets with Stephen!"
Pastor Sha Degruy

"At Stephen's school of the prophets I learned things about dreams, visions, & visitations that I didn't know before. God has increased my nightly dream encounters since attending. I feel more at peace. I expect God to take me in the spirit realm every night now! I can't wait for the next School of the Prophets. God bless you Stephen more and more abundantly."
Karen Delgado
"What I most enjoyed about Stephen's School Of The Prophets was the strong Presence of The Lord in the meetings and the centrality or focus upon Jesus that came as Stephen ministered. Obviously the Holy Spirit does speak to us in dreams, visions, and visitations, but at the end of the day it's all about Jesus. I love how Stephen, even as he was sharing revelation about dreams, visions, and visitations, always brought it back to Jesus. The stories he shared really brought greater clarity to what he was sharing. You will be enriched and edified by taking this school of the prophets!"
Christopher Keller

"I recently attended Stephen Powell's school of the prophets, and since then I have come to a more matured understanding of the prophetic. I realize now that you don't have to be a prophet in order to be prophetic. Some of the things that Stephen said kept me awake while I prayed at night in my bed. The stories and testimonies He told so gripped me. I encourage everyone to attend Stephen's school!"
Jessie Hudson
LET'S DISCUSS THINGS!
Schedule a zoom call with Stephen to discuss the unique needs of your church or ministry and the process of having Stephen be your guest speaker in the near future, or use the Invite Form below to submit your information and we will reach out to you soon!
INVITE STEPHEN TO MINISTER